Oleg Litvinov is the founder of Bilux and the winner of the rating of "50 bravest entrepreneurs of Kharkiv" . He was the first in Ukraine to launch the production of a new type of infrared heaters, which now heat not only houses but also factories across the country. And among the big clients of Bilux are Nova Poshta, Allo and Golden Age.
In a partnership article with KUB, Oleg told MC.today how he started with a workshop in a garage, gave up large investments and was able to build a business with contracts worth millions of hryvnias.
---
The path of mathematics to big business
By education Oleg Litvinov is a mathematician, a specialist in systems analysis. It was analytical skills that ten years ago helped him calculate what the market needed and start his own company. But Litvinov began with a modest position in a foreign firm. Litvinov became an analyst at Ukrainian Industry. There he talked to the owners of large and small industries and tried to solve their problems.
"At the beginning of the 2000s, there was a general headache in business in Ukraine – gas prices were rising," says Oleg. "Tariffs for utilities and budget organizations have not increased, but for entrepreneurs have grown every time the government failed to agree on prices with Russia and Turkmenistan."
By 2005, the situation was catastrophic. Where there was no central heating, people worked in cold shops. Entrepreneurs did not have enough money. Then Litvinov learned about a new Swedish technology – long-wave infrared heaters. They did not heat the air in the room, but objects, so they did not burn oxygen in the room. And most importantly – spent little electricity. Oleg suggested that the management use this technology for customers. Everyone liked the idea, but it had to be tested.
Coup in heating
On his own $ 200 Oleg ordered a heater from Sweden and decided to check it in the office. At that time, Ukrainian Industry worked in the cold room of the former research institute, where people did not take off their winter clothes.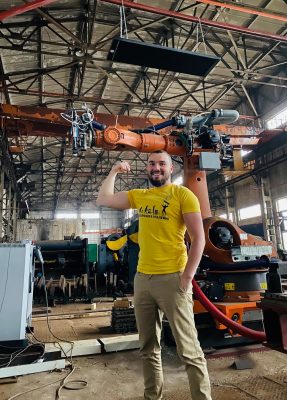 The device was hung from the ceiling and left overnight. And in the morning the office became warm and comfortable. "The long-wave heater worked better than two oil heaters, and used four times less energy. On this day, I realized that these devices are a real revolution in heating, "said Litvinov.
Oleg ordered ten more devices and went with them to the Kharkiv exhibition. "For three days I only did what I told and showed how this model works," Oleg recalls. "People approached, listened and bought: we sold everything and found our first wholesale customers – Kharkiv Instrument-Making Plant."
For heaters and their installation in one shop Litvinov received about $ 7 thousand. From one order he covered the costs of the exhibition, and made a profit. "The plant also won," says Oleg, "the new heating system paid off in three years. Then, in 2005, gas for production rose four times, and the price of electricity was stable.
There, at the exhibition, Oleg met his future partner – engineer Dmitry Vasylchenko. He became Litvinov's chief assistant and technical director of Bilux. In the first two years, sales of heaters went well and Oleg did not plan to change anything. But in 2008 the hryvnia collapsed and it became very difficult to work with imported goods. Then Oleg realized: it's time to open your own production.
The first "Bilux" was collected in the garage
To make their heater, Oleg and Dmitry disassembled the Swedish model. And then in Litvinov's garage came up with what should be a domestic device.
The electrical part was also adapted to domestic realities. In Sweden, power grids are stable, but in Ukraine they are not. Voltage drops were deadly for European devices, so the heating element had to be redesigned.
Oleg and Dmitry assembled two hundred heaters of their own design. But they were unlucky with sales. "We started selling Bilux through retail chains, where buyers simply did not notice them," says Oleg. "The technology and the company were unknown to them, so everyone passed by."
Oleg soon found an explanation for the failure in Everett Rogers' book on innovation. According to his theory, the new technology is initially tried by only 2% of consumers – desperate fans of new products. And to win a more conservative majority, it takes much more time.
He gave up $ 1 million for the sake of business freedom
As a result, the first batch was sold through dealers, whom Oleg met at an exhibition in Kharkov. Oleg spent $ 15,000 on its production and was able to recoup all the costs.
But to make more devices, more money was needed – for the rent of the shop and warehouse, the purchase of metal and the salary of workers. Our own savings were no longer enough.
To attract investment, in 2011 Oleg applied for the startup competition. Did not win, but took second place. Bilux was noticed by a serious investor, who offered Oleg to invest a million dollars in the project outside the competition.
Who could refuse? But Oleg did not want to obey a large investor. He found people who agreed to give less but stay on equal footing.
"Four Bilux dealers offered me $ 50,000 each for the franchise," says Oleg. "In the amount of $ 200,000, that's exactly what was needed to start large-scale production." Now Litvinov was in complete control of the business, and partners could sell Biluxes in their region at any margin.
How to attract a customer
The first sales to small businesses and homeowners, although going well, could not give the company the necessary growth. "Then we realized: the household segment will wait, and we need to focus on large or network customers," – says Litvinov.
However, soon in the history of "Bilux" there was a great crisis. In 2013, Oleg launched the production of heaters with an open heating element (tubular electric heater. – Ed. Note), but the supplier let him down and brought parts with a hidden defect. Because of this, the whole party soon burned down.
Bilux's loss was in the tens of thousands of dollars and was the largest profit for the season. But Oleg decided at his own expense to replace all defective devices. "Everything paid off later, when partners and customers realized: we can be trusted. Many of those customers still remain with us, "he shared.
Equipped one store for free
But Litvinov and his team came to the big networks themselves. This was the case, for example, with the Golden Age jewelry stores. In one of the branches of this network in the center of Kharkiv, even a powerful boiler could not cope with heating. Every year the glass walls of the store were covered with ice, despite all the efforts of power engineers. The leader of the Kharkiv office of Bilux offered the Golden Age to equip this room for free.
The partners replaced the electric boiler with Biluxes, and it became warm inside and the walls thawed. At the same time, its heaters burned half as much electricity as the old system. The management of the "Golden Age" appreciated both the heat and the savings.
Also, with the help of the Kyiv leader, Bilux won Nova Poshta: it equipped their 300-square-meter premises free of charge. m. It could not be heated by air conditioners or a separate electric boiler. After two successful deals, several other big clients came to Oleg at once. The average check in the company grew to UAH 1.5 million. And the largest order immediately brought Bilux UAH 8 million.
"It is due to large networks that we were able to beat competitors and expand production: from the first 10 copies – to today's 10 thousand per month," explains Litvinov. "Several Ukrainian companies tried to produce the same heaters, but focused on small private individuals, so their turnover did not grow."
The calculation turned out to be correct: in 10 years Oleg has increased his annual turnover 40 times – from 25 thousand dollars in 2010 to almost a million in 2020.
How to help the environment and the budget
Now Oleg wants to attract a new type of customers – developers who lay heating systems in the projects of future buildings. "If they become fans of long-wave heating systems, not only Bilux will win, but the whole planet will win," Oleg said.
The less electricity we use, the less coal and gas the CHP burns – which means less carbon dioxide and harmful substances enter the atmosphere.
Source:
https://mc.today/nachinal-s-200-sejchas-oborot-1-nbsp-mln-matematik-postroil-biznes-na-obogrevatelyah-ego-istoriya/?fbclid=IwAR0GfqnXfsQmsIm0zAUPfzt5OL7Wrs_hubZb8
Author: Anastasia Shartogasheva